Download link: HERE
Official site: zorinos.com
Distrowatch: distrowatch.com
---
Zorin OS is a multi-functional operating system designed specifically for Windows users who want to have easy and smooth access to Linux. It is based on Ubuntu, and uses a customized version of Gnome and the Avant Window Navigator which they call the 'Zorin Desktop'.

History
Zorin OS 1.0 was released July 1, 2009, and was based on Ubuntu 9.04.
The most recent release, Zorin OS 10, was released on August 1, 2015, and is based on Ubuntu 15.04. This release was the first since version 2.0 to include an updated icon theme. Zorin OS 10 also includes a new window theme, and expanded options for customizing the theme.
Features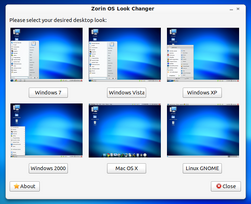 Zorin OS has some distinctive features that set it apart from other Linux distributions. The most renowned one is the purposeful attempt to provide a Windows 7-like experience by default, although through the use of the Zorin Look Changer, users can choose to have a Windows XP, Windows 2000, Windows Vista, OS X, and Gnome 2. OS X, Windows 2000, and Gnome 2 are only available in the Ultimate edition of Zorin OS, which is approximately $12.
Zorin uses the Avant Window Navigator (AWN) on top of a Gnome 3 base. The Zorin Menu is a plugin for AWN, and changes depending on the layout selected.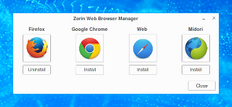 Another home-built feature is the web browser manager. This small application allows users to install or remove any of four popular web browsers at the click of a button.
With a 1.4GB ISO, Zorin offers nearly every piece of software a user could want for, including not only the basics (LibreOffice, Firefox, etc.) but also more advanced software like GIMP, OpenShot Video editor, VLC Media Player, and Wine. Users also have access to the Ubuntu Software Center.
Zorin OS comes pre-installed with many media codecs, as well as Flash Player, to help users avoid having to install these themselves, a task which is a major roadblock for new Linux users.